SPORT
The photograph below shows our children holding some of the trophies they have won over the years. This is a fantastic representation of the schools commitment to all sport, the hard work of staff and our very talented children.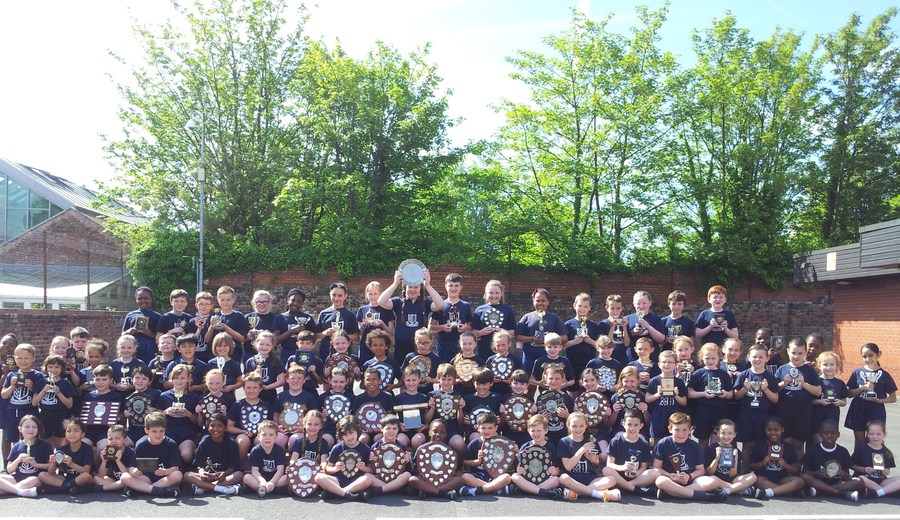 St. Sebastian's lives, breathes and positively thrives on an amazing sporting ethos, enthusiastically and passionately led by LDCSA President and Head Teacher, Dennis Hardiman. The schools' commitment is illustrated by his involvement as the Primary Head Teachers' Representative, on various working parties promoting sports (such as Liverpool 'Health & Well-Being' committee) and with Sport England, as well as our reputation for providing 'sport for all', recognised by a substantial grant from 'space for sports', to build facilities.
This schools' passion is daily lived by each child having access to 2hours PE in curriculum time, an extensive extra-curricular time table led mainly by our own staff every day (84% of our children attend clubs & have represented our school in sporting activities), active playtimes led by KS2 pupils, involvement in many school competitions. This is illustrated by our vast array of sporting accolades (through the decades) and the enjoyment and excitement of our children.
Empowering children with the self-belief, confidence and the discipline to develop their physical prowess has enabled them to achieve in all aspects of school life. This is reflected in Outstanding Ofsted Reports. Also 80% of KS1/2 receiving awards at Children's University, from bronze to Post Graduate Level, predominately reflecting sporting involvement and achievement. We seek different, exciting ways to support this continued development, maximising opportunities for all. We have built an astroturf, woodland, running track, long jump pit, basketball court, short tennis & netball courts. Our children are regular visitors to facilities such as Wavertree Track, Aquatics Centre (all Y2 & KS2 pupils have swimming lessons) also running around various city parks. Our annual school run is a fun activity for all. Support for tennis is highlighted in whole school access to Calderstones Park for the Liverpool Tennis Tournament and timetabled specialist coaching from Y1-6.
We believe all children should have the opportunity to share sporting experiences with other children. We enter school to school competitions organised by the LSFA, LSSP, LPSAA, L&DCSA, England Rugby, Liverpool Cricket Association etc. Amongst 230 primary schools in the city, we certainly stand tall despite being one of the smallest schools. Last year in football, netball, Indoor & Outdoor Athletics, cross-country, high 5 netball, dance, tag-rugby, cricket, we won, often retaining the highest accolades as Liverpool City Champions or LDCSA Champion of Champions. We won 16 trophies across these sports. Though our children enjoy winning accolades, we celebrate ALL achievements in assemblies. We congratulate ALL who represent our school, engendering a real desire 'to do it for our school, our team and ourselves'.
The residentials which are offered to all in Y3,4 & Y6 are chosen because of the opportunity to try new active experiences (canoeing, fencing, archery, lacrosse, aeroball, climbing and caving).
For our children to develop well, our teaching staff must teach well. Our school development plan acknowledges the importance of staff CPD and external agencies and specialist coaches work with our staff and children alike. We are members of the 'Change for Life' & 'Get Set' Schemes, strongly promoting physical activity and healthy living as a whole-school priority, delivering workshops for our children, staff, extended school and parents about the importance of health and well-being.
Whilst enjoying the achievements of our children, more rewarding is empowering our children regardless of ability to develop and discover new skills, collaborate with peers and nourish their excitement for sport. Whilst recognising and nurturing talent (e.g. G&T children links with Liverpool Harriers, swimming clubs, local football clubs), our ethos of personal development is fostered amongst all of our children.
These opportunities are there to confirm the message that 'being active is FUN!' The children and staff are proud of our 5 Healthy School awards and KITEMARK Gold.
It is our vision for children to see physical activity as a natural part of everyday life, whereby a healthy body and mind is nurtured, not just now but forever.