Feast Day Celebration
St Sebastian
St Sebastian's Feast day is celebrated on the 20th January and we at St Sebastian's Catholic Primary School mark the occasion with a Feast day Celebration Mass. This January, our year 5 class dramatically re-enacted the story of St Sebastian's persecuted life up until his death. The performance was held in our school hall followed by a whole school mass with Fr. Mark, families, friends and parishioners. Why not join us next year on January the 20th to celebrate St Sebastian's feast day, we would be delighted to welcome you along.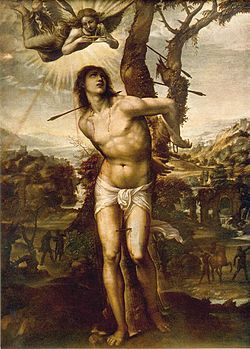 The Life of St Sebastian
Saint Sebastian (died c. 288) was an early Christian saint and martyr. He was killed during the Roman emperor Diocletian's persecution of Christians. He is commonly depicted in art and literature tied to a post or tree and shot with arrows. Despite this being the most common artistic depiction of Sebastian, he was, according to legend, rescued and healed by Irene of Rome. Shortly afterwards he criticized Diocletian in person and as a result was clubbed to death. He is venerated in the Catholic and Orthodox Churches.